St Clement

Master Thomas'de Perar, the first rector of Skegness vacated his post in 1290, or so the board in the church informs us. It is believed the first parish church of Skegness was built in 1280, but this was destroyed in the flood of 1526. The present St Clement's church is believed to date from around the middle of the 17th century, with stone in the tower
dating from the earlier church, and was the parish church of Skegness until Victorian times when St Matthew's was built.
Rectors of Skegness did not live in the parish until 1880. St Clement's is a Grade II listed building in reasonable condition with the next quinquennial due in 2015. It has a rather isolated position close to a large housing estate but alongside the graveyard with public footpaths running through it. The regular congregation of 20-30
folk like to think of themselves as warm and friendly with a ready welcome to anyone coming into church.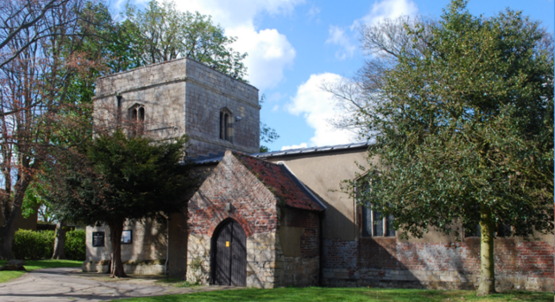 In our identification of our Mission Communities St. Clement was categorised as a Local Mission church. Under the previous Rector, services of Holy Communion (either priest led or lay led with Communion by Extension) were held every Sunday with a shortened Holy Communion (usually priest led) on Tuesday. The congregation appreciates that with reduced resources in the parish during the vacancy, fewer services are held and there is now Holy Communion on the 4th Sunday of the month as well as the Tuesday morning service.
St Clement's church is set in the St Clement Ward of the town, which is an area of high deprivation.
How to find us:
The church is set back off Church Road North through an opening at the side of the Viking School. It can be reached by car either directly from Lincoln Road into Church Road North or from Burgh Road (A158) via Lyndhurst Avenue and left into Church Road North. There is a public footpath that runs through the churchyard from Lincoln Road to Church Road North.
St Clements Community Hall
Church Road North
Skegness
Lincolnshire PE25 2QH
Service times:
Sunday: 9.30 a.m -
Holy Communion or Morning Prayer (2nd, 3rd, 4th & 5th Sunday in the month only)
Tuesday: 10.30 a.m -
Holy Communion
Churchwardens:
June Clingan